About Hong Kong
Link to information on COVID-19 in Hong Kong
https://www.coronavirus.gov.hk/
Hong Kong, the Asia's World City, is one of the premier meeting destinations around the globe. As a destination, Asia's world city offers you the opportunity to experience a vibrant living culture featuring a unique blend of East and West. To explore all the best things in Hong Kong, please visit: http://www.discoverhongkong.com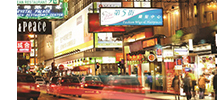 Bank and Currency
Major banks are open from 9:00am to 5:00pm Monday to Friday, and 9:00am to 12:30pm on Saturday. They close on Sundays and public holidays.
Legal tender is the Hong Kong Dollar (HKD). There are 100 cents in a dollar. Legal tender is the Hong Kong Dollar (HKD). There are 100 cents in a dollar. Notes in everyday circulation are denominated in HK$10, $20, $50, $100, $500 and $1,000. Coins are issued in denominations of 10 cents, 20 cents, 50 cents, HK$1, $2, $5, and $10.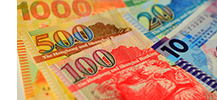 Exchange Rates
Since the mid-1980s, the value of the Hong Kong dollar has been pegged at HKD7.8 to the US dollar, and consequent rates of exchange to other currencies. However, the market rate exchange to the US dollar fluctuates marginally. Banks and money changers charge commission. Similarly, commissions are payable in hotels and major retail outlets which provide exchange facilities for their customers.
Electricity
The standard electrical voltage in Hong Kong is 220 volts AC, 50HZ, so you will need an adaptor for your 100-volt appliances and electrical equipment. The majority of electrical outlets in Hong Kong take a three-pronged plug. You can buy an inexpensive adaptor for your equipment when you arrive in Hong Kong.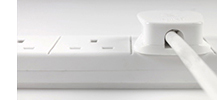 Mobile Services
Using your mobile phone in Hong Kong is convenient as most of the telephone systems used around the globe - like GSM 900, PCS 1800, CDMA and WCDMA - operate in Hong Kong. Mobile operators in Hong Kong also have roaming agreements with most overseas operators enabling visitors to use their own mobile phone when they come to Hong Kong. Before leaving home check with your network provider to make sure they have a roaming service to the various destinations you will be visiting and be sure to check pricing.
Opening Hours
The vast majority of shops are open every day throughout the year, some only closing during the Chinese New Year holiday. Generally, opening hours are 10:00am - 7:00pm. However many stores in busy retail areas like Causeway Bay and Tsim Sha Tsui stay open until 9:30pm or even later, particularly on weekends. Shops in Central close as early as 7:00pm.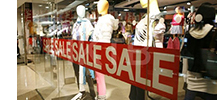 Tips
Most restaurants will levy a 10% service charge but waiters will expect to be given some loose change. Restaurants, which do not add a service charge, will expect a 10% tip. However, tipping is left to your discretion. Bellboys, porters, restroom attendants and taxi drivers will happily accept loose change.
Transportation
Public transportation via bus, ferry or train is efficient, relatively inexpensive and user-friendly. The system covers extension areas of Hong Kong with signs in English and Chinese. Airport Express links between Hong Kong International Airport and Hong Kong's vibrant Central business hub. All the Airport Express stations include an In-town Check-in desk and regular Airport Express Shuttle Bus services. For details of train service, please visit www.mtr.com.hk
Getting Around
Hong Kong is geographically compact and the public transport system (bus, ferry, or train) is efficient, relatively inexpensive and user friendly. Road signs in Hong Kong are bilingual in both English and Chinese.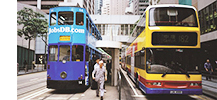 VISA
Please check visa requirements with the embassy of your country in Hong Kong. Fully registered and paid delegates may receive an invitation letter from the Organizing Committee, in order to facilitate their visa application procedure.
Participants planning to travel to mainland China should make their own visa arrangement. China visa can be processed in Hong Kong and normally takes three working days and one passport-sized photo. Visas can be obtained through the Visa Office of People's Republic of China, Office of the Commissioner of the Ministry of Foreign Affairs of the People's Republic of China in Hong Kong, China Travel Service (HK) Ltd, or China International Travel Service HK Ltd.
Visit Visa / Entry Permit Requirements for the Hong Kong Special Administrative Region:
https://www.immd.gov.hk/eng/services/visas/visit-transit/visit-visa-entry-permit.html
Weather
Hong Kong has a subtropical climate with distinct seasons. During November there are pleasant breezes, plenty of sunshine and comfortable temperatures. Many people regard these as one of the best months of the year. The average temperature ranges from 17℃ to 20℃ and humidity of 76 percent. Weather information is obtainable from the Hong Kong Observatory: http://www.hko.gov.hk
Useful Numbers (*)
Directory Enquiries: 1081 / 1083
Weather: 187 8200
Emergency Service (Police, Fire, Ambulance): 999
Hong Kong Tourism Board Visitor Hotline (8am - 6pm Hong Kong Time): 2508 1234
Hong Kong International Airport, English (24 hours): 2181 0000
(*) If you're dialing from outside Hong Kong, please add the area code (852).